Inspections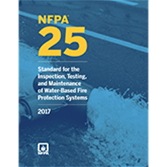 A properly installed and maintained sprinkler system can protect your property and people 24/7 by providing a shower of water to any fire until help arrives.
Frequent inspections and compliance help to maximize the integrity to your system to avoid failure and ensure fast, effective response in a fire emergency.
G & G is a certified, full-service fire protection supplier, with trained technicians on staff to inspect, maintain and repair your commercial water-based sprinkler system.
Testing
We are governed and regulated to standards for the "Inspection, Testing, and Maintenance of Water-Based Fire Protection Systems" in the NFPA 25 Compliance Standard.

G & G provides controlled testing on a monthly, quarterly, semi-annual, or annual basis. Your insurance company or local fire department can assist you in determining the frequency of testing for your particular location.
If you think you might possibly be interested in an inspection service contract for your facility, please contact us directly and we would be more than willing to furnish you with a quotation tailored to meet your needs, at no cost or obligation to you.
Availability
Our professional service department technicians are on call 24 hours a day - 365 days a year.